Most MOVE days are full, but Wednesday was packed out! From the moment we woke up this morning we were on the go, taking our students on a journey through today's theme: You are Near. Our study all day interacted with the continuing story of Daniel and his friends, as recounted in Daniel Chapter 3.
In this episode, King Nebuchadnezzar persists in his attempt to usurp God's authority, by setting up a golden image and demanding that all people worship it. When Shadrach, Meshach, and Abednego refuse, he throws them into a furnace of fire. Mark Christian opened the morning with this thought, "When the you stand while the world bows to culture, you are going to be noticed. When you are noticed, not everyone is going to cheer." For Daniel's friends, standing up meant that they were sentenced to be executed. For students, the choice to Stand Up and Speak Up can seem just as daunting as facing a furnace of fire.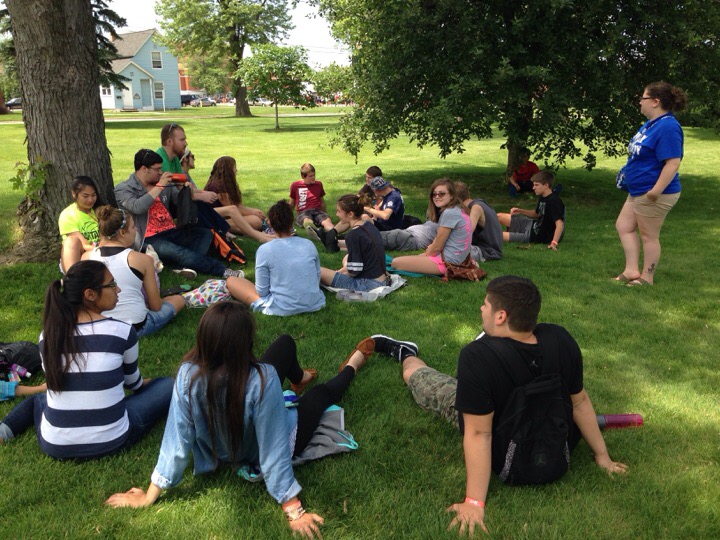 After lunch, we viewed CIY's new documentary, Aullido, which recently won Best Short Film at the Justice Film Festival in Chicago. Aullido follows the story of Vincente, a student from Guatemala who was sexually abused by his soccer coach. This film sparked some intense conversations among our students as we grappled with what it means to stand up and speak up against injustice whenever we encounter it.

Later on, Frank and Tracy dropped off care packages that you, the church, crafted for our students and adults. I cannot thank you enough for your support of our students on this trip. God is changing lives here, and our students feel loved by SLCC!
The rest of the day was filled with a dune hiking adventure, supper, ultimate frisbee, an all-campus student talent show called "The Alternative," and our final session of the night. During this session, Rachel Grindle reminded us that God has been seeking to be near us since the dawn of history. From the Garden of Eden, through the Tabernacle/Temple, to Jesus Christ, and now to the indwelling of the Holy Spirit, God has always wanted to be with his people. Yet we seem to so often be blind to his presence. Students had masks with tape over their eyes, representing things that keep them from seeing Jesus. As our final act of the night, they were given the option to throw those masks into the fire and to seek Jesus Christ with their whole self.

God continues to work among us, and we still have two more days to go! Thank you for your prayers, and please keep them coming. Continue to pray with me for our students and adults as we dig into Daniel's story!